All about the amazing parish council home page
OgImage:


Singleton Parish Council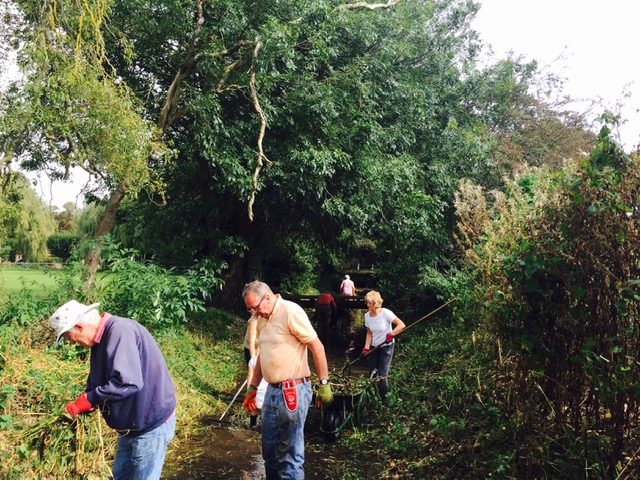 ( Volunteers Clearing the River Lavant )
This website provides information about the activities of the Parish Council in the villages of Singleton and Charlton - pretty villages situated in the Lavant Valley, a few miles north of Chichester in West Sussex.
All of our councillors are volunteers and are committed to representing their community. They:
give views, on behalf of the community, on planning applications and other proposals that affect the parish
undertake projects and schemes that benefit local residents
work in partnership with other bodies to achieve benefits for the parish
alert relevant authorities to problems that arise or work that needs to be undertaken
help the other tiers of local government keep in touch with their local communities
We want to work closely with our community and encourage residents to get in touch with us and attend meetings. Please get in touch and join our mailing list, mailchimp
Full Parish Council Meeting
Singleton Village Hall
Wednesday 7:00 pm
View Details
How to report issues to WSCC
The WSCC Love West Sussex app can be used to report potholes, graffiti, fly tipping, damaged pavements and many more. Simply send in your report using the WSCC free mobile app, a text or picture message. Love West Sussex will deal with your report and we will send you a message when it's complete.
http://love.westsussex.gov.uk/reports/home
Latest Parish News
Chichester District Council
16

District Dispatch
This week, the Government introduced the 'rule of six' to target the rise in coronavirus cases in the country. This new restriction means that social gatherings, inside or outside the home, should not exceed six people. It is really important that we all play our role and follow the Government's guidance, including washing our hands regularly, wearing a face mask in enclosed spaces; and staying at least two metres apart or one metre with a face covering or other precautions. To keep up to date with the latest guidance and news, please sign up to our email newsletter at www.chichester.gov.uk/newsalerts
As part of our drive to help residents keep fit and healthy and improve their wellbeing, our Chichester Wellbeing team is offering free online and telephone support. They have a whole variety of services, including helping people to reduce their alcohol intake; a service that helps you to quit smoking; and, weight loss workshops. These services all link with the Government's Better Health Campaign, to help people improve their health and protect them from serious illness, including coronavirus. If you would like to find out more, please call 01243 521041 or email info@chichesterwellbeing.org.uk
Over the summer, it has been great to see people supporting their local shops, restaurants and businesses – and it's vital that we all continue to do so. In some cases we've seen businesses expand and grow, and this includes some of the businesses in our Old Bakery arcade in Petworth. Owned by the council, it is currently home to a shoe repairer, as well as charities and an energy company. Two existing businesses are moving into bigger premises within the arcade, while new tenants include a deli and charity organisation. This is really positive news and we'll be telling you more about this in the coming weeks. We all have a role to play in helping our businesses get back on their feet and thrive once again and so please do all you can to support our local businesses.
If you own a business, there is still plenty of support available – you may be eligible for loans, tax relief and cash grants. The Government has created a business support finder tool to help you identify support that may be available to help you www.gov.uk/business-coronavirus-support-finder As a council we have also launched a £250,000 business recovery grants scheme. You can apply online at www.chichester.gov.uk/bsuinesssupportadvice until Friday 18 September.
I'm pleased to tell you that we have expanded our Council Tax Hardship scheme to help more people who are struggling financially as a result of coronavirus. In March, we received just over £699,000 of Government funding to help people who were experiencing financial hardship to pay their council tax. This meant that every working age person already receiving the council's own Council Tax Reduction support, automatically received £150 or an equivalent amount if the balance of their account was less than £150 for the year 2020-21. All new Council Tax Reduction recipients who are eligible will also receive £150 for the 2020-21 financial year, subject to funding being available. This support has now been extended to pension-age recipients of Council Tax Reduction and all council tax payers that are financially vulnerable as a result of the pandemic. We understand that this is a difficult time for many people and so I would urge anyone who is struggling with payments to apply for Council Tax Reduction. This is a means tested benefit and does not take account of outgoings. If you think you may be eligible, please visit our website for further details and to apply at: www.chichester.gov.uk/myaccount If you are already in receipt of Council Tax Reduction and are still having difficulties paying your bills, you can now apply for this new support byfilling in the Discretionary Council Tax Reduction application form at: www.chichester.gov.uk/benefitforms
Although our council offices are currently closed to the public, we are still here to help. Our services can be accessed anytime, anywhere at www.chichester.gov.uk If you can't find what you are looking for, you can email us at contact@chichester.gov.uk You can also reach us on the phone between 9am and 5pm weekdays on 01243 785166. The majority of our staff who are based at East Pallant House are now working half of their time in the office and half of their time at home. This is so that we can maintain social distancing measures and follow Government guidelines. You can find the latest Government advice at www.gov.uk/coronavirus
Best wishes
Cllr Eileen Lintill
Leader of Chichester District Council
Chichester District Council
13

Dear residents and partners,

So far in West Sussex we have had a relatively low number of cases of Coronavirus. That is mainly thanks to you for continuing to follow the government guidelines on regular handwashing, wearing face coverings, social distancing and getting tested.

However we have seen an increase in recent weeks in the number of people who have tested positive for Coronavirus.

We have to continue to do all we can to keep the numbers as low as possible. It means taking preventative action to stop the spread of the virus including regular handwashing, practising social distancing, wearing a face mask when appropriate and getting tested when you have symptoms.

Our website has the latest guidance and information on how to prevent the spread of the disease and what we will do in the event of an outbreak in West Sussex. We really hope we won't have to implement these plans, but we are ready to act if we need to.

We'll continue to monitor all our cases in West Sussex and publicise key messages about how people can help us to control the virus. The Keep West Sussex Safe information campaign is running across the county with a particular focus where there are areas of concern.

As restrictions continue to relax and guidance changes, it is inevitable that there are questions about what you can and can't do, especially when it comes to gatherings and spending time with people outside of your household.

We have heard this week that social gatherings of more than six people will not be allowed in England from Monday 14 September. This will apply in any setting, indoors or outdoors. This single measure replaces both the existing ban on gatherings of more than 30 and the current guidance on allowing 2 households to meet indoors. There will be some limited exemptions. For example, if a single household or support bubble is larger than 6, they can still meet up.

Please continue to follow these guidelines. We appreciate how hard it has been not to see friends and family in the way we are used to, but there are ways to be in touch and stay safe at the same time. We are very grateful to all residents for their continued efforts to ensure the county remains safe. We have done so well to control the spread of COVID-19 in West Sussex up until now. Please help us to keep it that way.

Let's avoid a local lockdown and keep West Sussex safe.

Stephen Horsley
Director of Public Health

---

Hand washing

Wash your hands with soap and water more often than usual, for at least 20 seconds, using hand sanitiser if soap and water are not available

---

Social distancing

You should avoid close contact with anyone outside of your household or support bubble and practise social distancing.

You should try to stay 2 metres apart, but when this is not possible then stay at least 1 metre apart and consider taking these steps

Wear a face covering
Sit next to rather than face-to-face to someone
Keep the time you spend doing this to a minimum

---

Face coverings

If you can, wear a face covering in enclosed public spaces where social distancing isn't possible and where you will come into contact with people you do not normally meet.

Further information on when you need to wear face coverings, exemptions, and how to make your own face covering can be found on the GOV.UK website.

---

---

Solar together scheme

A council-supported scheme is giving residents in West Sussex the chance to install high quality solar panels on their homes at a reduced cost.

Householders can register their interest in Solar Together Sussex during September, giving details of their roof size and position.

Updates on our Household Waste Recycling Sites

Household Waste Recycling Sites in West Sussex are starting to open up more fully, with most sites now accepting trailers.

Before making a trip please read our latest information on how each site is operating. Please note our Crawley site remains closed following a fire.

Time for a new career?

As the job market changes you or someone you know may be thinking about working in a new sector. One area to consider is care work. Care is perfect for anyone that loves people and wants a rewarding job that offers long-term career opportunities.

Watch the new Proud to Care video to find out what's so great about a career in care.

Concessionary travel change

From the end of October, we will no longer include a free Senior Railcard as an alternative to the Older Person's Bus Pass. People will have until 31 October 2020 to apply for the free Senior Railcard option instead of the bus pass.

There are no changes to the free Disabled Person's Railcard alternative to the Disabled Person's Bus Pass, which will remain as an option for anyone with a qualifying disability.

West Sussex COVID-19 weekly case update

A weekly update reportwith local data is available on our website.
°C

%
mph
FRI
° °
SAT
° °
SUN
° °
MON
° °
TUE
° °