All about the amazing parish council home page
OgImage:
Singleton Parish Council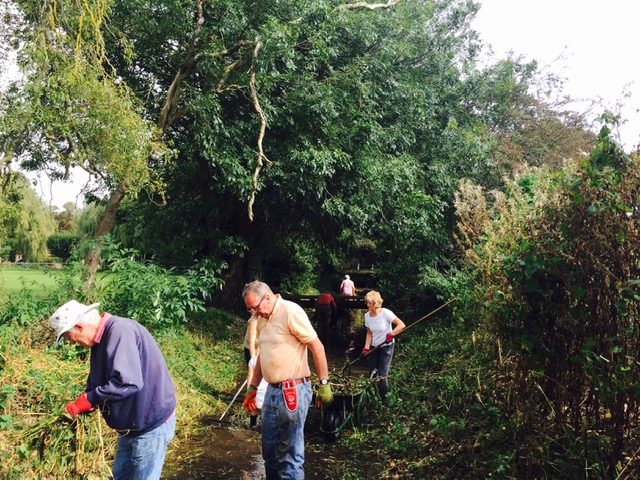 ( Volunteers Clearing the River Lavant )
This website provides information about the activities of the Parish Council in the villages of Singleton and Charlton - pretty villages situated in the Lavant Valley, a few miles north of Chichester in West Sussex.
All of our councillors are volunteers and are committed to representing their community. They:
give views, on behalf of the community, on planning applications and other proposals that affect the parish
undertake projects and schemes that benefit local residents
work in partnership with other bodies to achieve benefits for the parish
alert relevant authorities to problems that arise or work that needs to be undertaken
help the other tiers of local government keep in touch with their local communities
We want to work closely with our community and encourage residents to get in touch with us and attend meetings. Please get in touch and join our mailing list, mailchimp
How to report issues to WSCC
The WSCC Love West Sussex app can be used to report potholes, graffiti, fly tipping, damaged pavements and many more. Simply send in your report using the WSCC free mobile app, a text or picture message. Love West Sussex will deal with your report and we will send you a message when it's complete.
http://love.westsussex.gov.uk/reports/home
Latest Parish News
Latest news and events from across the Chichester District - Initiatives Newsletter
Latest news and events from across the Chichester District- Initiatives Newsletter
02

Welcome to the August issue of initiatives+


These updates are issued every month with the latest news and events in our area, details of schemes and projects that will benefit our residents and businesses, as well as national and local coronavirus updates.
Safe and easy ways to pay
From 1 November, we will no longer be taking cheques. They take longer to process and can get lost in the mail, which can delay your service. This change also lessens the risk of fraud and will help keep council tax low. For safe and easy ways to pay, visit www.chichester.gov.uk/applyreportpay
Improvements to recycling trial
The way we collect textiles, small electricals and coffee pods as part of our recycling trial has changed. If you're in the trial area and have items to recycle, please make sure you book a free collection. Find out more at
https://www.chichester.gov.uk/wasteandrecycling
Summer activities at The Novium Museum
Our museum is running lots of events and activities to keep the family entertained this summer, from art workshops through to a geology day. All events are listed at: www.thenovium.org/whatson

It's also worth visiting the range of exhibitions, including 'The Art of Chichester'; '200 years of Chichester's Canal'; and 'The Novium Museum at 10': www.thenovium.org/exhibitions
Apply now for subsidised trees
People can now apply for subsidised trees to plant in the district! For a simple guide on how to apply and a range of frequently asked questions, visit www.chichester.gov.uk/treescheme
Initiatives+ giveaway
Please encourage your friends and family to sign up to this newsletter to be in with a chance of winning some fantastic prizes from Chichester Festival Theatre and the Weald & Downland Living Museum. Sign up at www.chichester.gov.uk/newsalerts
Covid-19 boosters
People over 50 will be offered a Covid-19 booster and a flu jab this autumn. Work is underway in West Sussex to plan where and how people will be able to receive their booster. We'll share this information from the NHS when we receive it. Find out more at www.sussex.ics.nhs.uk/your-care/covid-19-vaccination
The Valley Diary - August 2022
29

Please see file attached.
°C

%
mph
FRI
° °
SAT
° °
SUN
° °
MON
° °
TUE
° °