All about the amazing parish council home page
OgImage:
Singleton Parish Council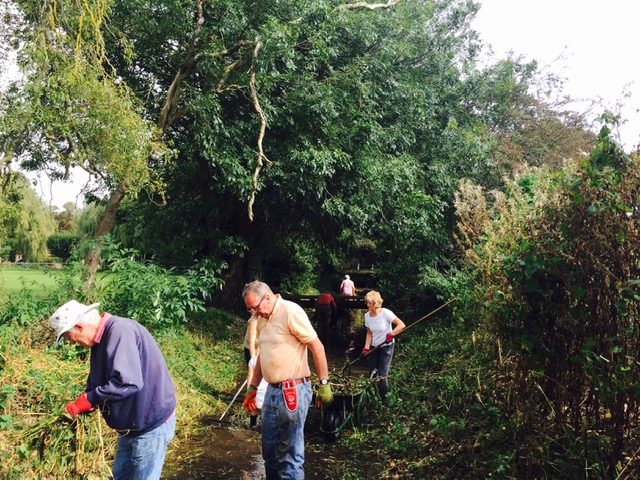 ( Volunteers Clearing the River Lavant )
This website provides information about the activities of the Parish Council in the villages of Singleton and Charlton - pretty villages situated in the Lavant Valley, a few miles north of Chichester in West Sussex.
All of our councillors are volunteers and are committed to representing their community. They:
give views, on behalf of the community, on planning applications and other proposals that affect the parish
undertake projects and schemes that benefit local residents
work in partnership with other bodies to achieve benefits for the parish
alert relevant authorities to problems that arise or work that needs to be undertaken
help the other tiers of local government keep in touch with their local communities
We want to work closely with our community and encourage residents to get in touch with us and attend meetings. Please get in touch and join our mailing list, mailchimp
How to report issues to WSCC
The WSCC Love West Sussex app can be used to report potholes, graffiti, fly tipping, damaged pavements and many more. Simply send in your report using the WSCC free mobile app, a text or picture message. Love West Sussex will deal with your report and we will send you a message when it's complete.
http://love.westsussex.gov.uk/reports/home
Latest Parish News
Chichester District Council - Latest Covid Vaccination Update -
Latest Covid Vaccination Update
21

IONS (SUSSEX NHS COMMISSIONERS) <sxccg.comms@nhs.net>
Sent: 20 January 2022 16:50
Subject: West Sussex COVID 19 and Influenza vaccination update - 20 January
COVID-19 and Influenza vaccination programme
West Sussex update
20 January 2022
| | |
| --- | --- |
| | 'Week of walk ins' continues in West Sussex |
More than 50 walk in vaccination sessions have taken place in Sussex this week in an effort to make it as easy as possible for people to receive their vaccination.

Many more are planned for the rest of the week with sessions across West Sussex.

At community centres, supermarkets and in town centres, the pop up clinics are open for first, second and booster vaccinations.

No appointment is needed and people can come at any time during the session.

They have been well received and people have come forward for their first vaccines as well as those needing their top up booster.

We encourage anyone who is yet to have their vaccine – whichever it may be – to find a walk in session close to them and attend in the coming days.

The teams are also able to answer any questions that people may have – if you are not sure, or you have questions, come and meet the team and they can talk to you about it. There is no pressure to have the vaccine on the day; they are keen to answer your questions.

The best protection against COVID-19 remains the vaccination.

See the latest list of walk in sessions in your area
| | |
| --- | --- |
| | Hospital vaccination services confirmed until February |
As part of the Week of Walk ins we have been delighted to offer walk in vaccination services on our hospital sites.

They have been so successful to reach both patients and staff, that it has been confirmed that these services will continue for the next two weeks.

The services are located at:

Royal Sussex County Hospital, Brighton: Main entrance, Barry Building, Eastern Road.
St Richards Hospital, Chichester: Vaccination bus in the car park by the main outpatients building
Worthing Hospital: Vaccination bus in the Lyndhurst Road car park

They are open 11am to 4pm and no appointment is needed.

The clinics are a collaboration between University Hospitals Sussex NHS Foundation Trust (UHSussex) and the vaccination providers – Innovations in Primary Care and HERE GP Federations – who are running the services.

Dr Charlotte Hopkins, Chief Medical Officer at UHSussex said: "We know vaccination is the best way of keeping ourselves, our patients, our loved ones and our colleagues safe from getting severely ill with Covid. We also know that finding the time to get vaccinated isn't always as easy as it sounds.

"I'm very grateful to the teams who are making this possible and to everyone who makes the decision to get vaccinated. Increasing the vaccination rate across Sussex will help us avoid hospital admissions due to Covid and reduce pressure on our services, helping us make sure we can provide the care people need, when they need it."
| | |
| --- | --- |
| | Quiet session taking place next week |
A dedicated vaccination session is taking place this month for anyone with a learning disability and anyone who would benefit from a quiet space and more time to get their COVID-19 vaccination.

The clinic, which is being organised by GP Federation, HERE, is being offered to people living in Sussex who are currently eligible for the vaccine and who may need more time for their appointment, or who has extra access needs where a quieter and calmer environment would help support them to receive their vaccination.

It is taking place on Saturday 29th January at the Brighthelm Centre in Brighton.

It is a booked session, so please call 0300 303 8060.

Watch a video about the COVID-19 vaccine:
If you are still not sure on why you should have the vaccine or have questions, please see our Frequently Asked Questions which answer the most common questions we hear from local people. <

There is also a range of downloadable resources with videos and helpsheets in different formats and our community languages.

If you have any questions that aren't answered here, you can also contact our Vaccine Enquiries Team and they will be able to help and support you with the information you need:
Call our vaccine enquiry phone line: 0800 433 4545 (open 9am – 4pm, Monday to Friday).
Town and Parish News
20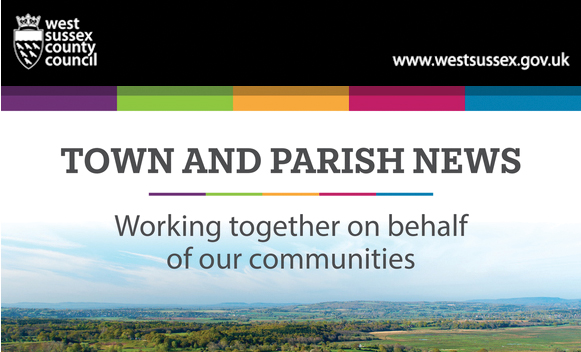 Issue 37 | January 2022

---

Free webinars: Safer Internet Day 2022

Two free webinars for professionals and communities to help keep young people safe online, take place next month for Safer Internet Day.

The internet brings many benefits and opens a wider world to young people, but there is also a dark side and it can be a dangerous place.

Safer Internet Day (Tuesday 8 February) aims to celebrate young peoples' role in creating a safer internet, whether that is whilst gaming and creating content, or interacting with their friends and peers. The theme this year is 'All fun and games? Exploring respect and relationships online'.

Run by our Community Safety and Wellbeing Team, the two free webinars will focus on how children can create more positive relationships online, through being mindful of their own online behaviours. It will explore the potential risks of gaming and radicalisation and will give advice and resources on how to keep children safe online.

There will be a key focus on the topics of online relationships, personal information, oversharing, gaming, radicalisation and the dark web.

The first webinar, on Monday 21 February, from 10.30am to 12.30pm, is for professionals such as Social Workers, School Staff, Mental Health Practitioners, Children's Services, Foster Carers etc.

The second webinar is aimed more widely at members of the public and takes place on Wednesday 23 February, from 1pm to 3pm.

Please promote these events via your channels so we can encourage as many people as possible to sign up.

---

27 January - West Sussex Chargepoint Network event

In November we announced our ambitious West Sussex Electric Vehicle (EV) Chargepoint Network initiative and asked for residents to register their interest providing a local view on where charge points should be located in the county.

We are now interested in hearing from Town and Parish Councils and Village Hall Trusts who own land for community use.

The contract is a concession, meaning that our partner Connected Kerb will incur all the costs for installing, maintaining and running the network.

The way the contract is structured will give community landowners the opportunity to use it, meaning that Parish, Town and Neighbourhood Councils, or any third sector organisation in the county have the potential to benefit from a chargepoint installation at zero cost.

To help you find out more, there will be a free online event via Zoom on Thursday 27 January at 11am as part of Village Hall Week.

You will be able to hear about:

our commitment to EV charging
detail on the opportunity for community landowners
Connected Kerb and the Chargepoints
delivery timescales
registration and assessment.

As this is only open to Town, Parish and Neighbourhood Councils and Village Hall Trusts in West Sussex you will need to register for the event using the link provided below.

---

Ditch the problem!

Well maintained ditches and watercourses can significantly benefit the local community by reducing flood risk and creating habitats for wildlife.

We are keen for riparian owners, who are responsible for the upkeep of their ditches, to clear them out.

Ditches are watercourses designed to drain the surrounding area or hold water. Removing vegetation, grass, weeds, shrubs or any other debris helps water run freely and prevents flooding.

If an area experiences constant flooding, this becomes a nuisance to the community, can restrict access to property, makes everyday living difficult, and results in considerable expense and inconvenience for those that have been flooded.

As part of your ongoing work to support reducing flood risk impacting residents in your local area, we would encourage you to raise awareness and promote what people can do to reduce the risk of flooding.

The Riparian Ownership and Responsibilities material will provide useful practical information and guidance for landowners and residents.

When you have the opportunity please would you promote to your community groups and individuals in your area that the information is available via the link below.

---

Funds available for the voluntary sector

Please share this funding opportunity via your networks with any not-for-profit organisation who you think may benefit.

The Winter Support and Recovery Fund was launched in December 2021 in response to the current needs and impact on the voluntary sector in West Sussex in responding to the Covid-19 pandemic. It will run until March 2022 or if all funds are allocated prior to March deadline.

This funding offers support across three identified themes of Mental Health and Wellbeing Support; Reconnecting People and Communities, and Reducing Health Inequalities. It is particularly aimed at supporting people who experience social, economic and health inequalities.

A total of £720,000 has been made available across East and West Sussex with grants of up to £10,000 available to not-for-profit organisations, delivering projects and services under the themes identified.

Further details of the criteria and project examples can be found on the Sussex Community Foundation website below.

---

Have your say on community risk management

Don't miss out on the opportunity to take part in West Sussex Fire & Rescue Service's Community Risk Management Plan public consultation, which ends this Friday (21 January 2022).

The consultation contains six proposals setting out the direction of the service over the next four years.

You can find these proposals, along with the survey to take part, on the dedicated Community Risk Management Plan website below. Please also forward this to your contacts and residents.

---

Sussex Violence Reduction updates

Read the first in a new series of Monthly Updates from the Sussex Violence Reduction Partnership and find out what we have been doing - together with other partners in the #SussexVRP - to tackle the root causes of serious violence in Sussex.

---

Other dates for your diary

Find a calendar of all the 2022 meetings, including committees and sub-committees, due to be held by West Sussex County Council here.

We publish the agenda and reports on the relevant committee page a week before the meeting.

---

More news

To help you keep your residents informed:

---

Keeping in touch

Please share the information in this eNewsletter widely within your communities.

We welcome any comments or suggestions about the eNewsletter - email townandparishcouncilnews@westsussex.gov.uk.

For daily updates, residents can follow us on social media @WSCCNews and @WestSussexCC.

We are also now on Nextdoor, the app designed with communities in mind. Your residents can follow the link and join the conversation.

Thank you for your support. Keep safe.

---

Is this the right eNewsletter for you?

This eNewsletter is for Town and Parish councillors and clerks in West Sussex. If you are a resident, we recommend you sign up for our Residents' eNewsletter, which has information targeted to you. Sign up for our eNewsletters here.

---
°C

%
mph
FRI
° °
SAT
° °
SUN
° °
MON
° °
TUE
° °