All about the amazing parish council home page
OgImage:
Singleton Parish Council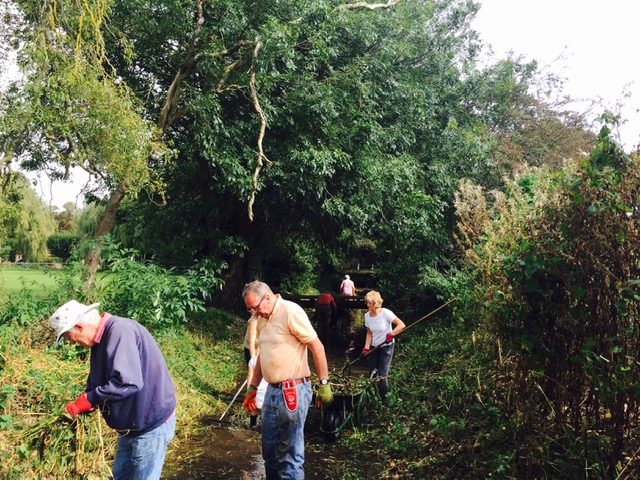 ( Volunteers Clearing the River Lavant )
This website provides information about the activities of the Parish Council in the villages of Singleton and Charlton - pretty villages situated in the Lavant Valley, a few miles north of Chichester in West Sussex.
All of our councillors are volunteers and are committed to representing their community. They:
give views, on behalf of the community, on planning applications and other proposals that affect the parish
undertake projects and schemes that benefit local residents
work in partnership with other bodies to achieve benefits for the parish
alert relevant authorities to problems that arise or work that needs to be undertaken
help the other tiers of local government keep in touch with their local communities
We want to work closely with our community and encourage residents to get in touch with us and attend meetings. Please get in touch and join our mailing list, mailchimp
Parish Council Meeting
Singleton Village Hall
Wednesday 7:00 pm
View Details
How to report issues to WSCC
The WSCC Love West Sussex app can be used to report potholes, graffiti, fly tipping, damaged pavements and many more. Simply send in your report using the WSCC free mobile app, a text or picture message. Love West Sussex will deal with your report and we will send you a message when it's complete.
http://love.westsussex.gov.uk/reports/home
Latest Parish News
Chichester District Council
20

District Dispatch
This week, the country has moved to Step 4 of the roadmap – a new phase of continued caution whilst managing the risks of COVID-19. What's important to remember, is that while many legal restrictions have been lifted, Step 4 does not mark the end of the need for caution and restraint. By practising key behaviours we can continue to protect ourselves and others and help stop the virus spreading.
The Government has a five-point plan to manage the virus, including: reinforcing the country's vaccine wall of defence; enabling the public to make informed decisions; retaining proportionate test, trace and isolate plans; managing risks at the border and supporting a global response; and retaining contingency measures. You can find out more at: www.gov.uk/coronavirus
There is no doubt that the success of the vaccination rollout has paved the way for the safe and gradual lifting of restrictions. This is why it is important that you get vaccinated if you are over the age of 18. It's even easier to access your first or second jab because there is now a walk-in vaccination clinic at Westgate Leisure Centre in Chichester. They can provide the first or second Pfizer dose, or the second dose of the AstraZeneca vaccine. Please remember that you can only walk-in for your second dose if it has been over eight weeks since your first one. You can find out more information and timings here: www.sussexhealthandcare.uk/keepsussexsafe/sussex-covid-19-vaccination-programme. If you know someone who has yet to have their vaccination, please do pass this information on.
This week also marks the launch of a new tree planting scheme. Residents, community groups, schools, landowners and businesses can apply for free trees, as part of a scheme to increase tree planting across the district. We are one of five local authorities in England taking part in the £2.5million tree planting pilot, to investigate ways to increase tree cover in rural and urban areas. As part of this scheme, we hope to distribute up to 7,000 trees, which will be ready for planting later this year.
Trees will be supplied in bundles of 10 or 20, but not as individual trees, and applicants will receive different bundles to suit the location and soil type of the area where they intend to plant them. Biodegradable guards and stakes will also be provided to help the trees grow and thrive.
Our Tree Chichester District scheme began at the start of the year and since then our Tree Project Officer has been in touch with people from across the district, giving them advice on their tree planting projects and helping them to access funding and sourcing trees through a range of organisations. This is just one of the many ways in which we are working to protect and enhance our local environment. You can find out more and apply at: www.chichester.gov.uk/treescheme
This week also marks the start of the school summer holidays. If you are looking for activities to keep the whole family entertained, make sure you visit our Novium Museum and Tourist Information Centre in Tower Street, Chichester. It has a range of exciting exhibitions on, including 'Mystery Warrior: The North Bersted Man.' To book your free visit, please see: www.thenovium.org/visit. I'm also really pleased to say that Chichester's Summer Street Party is back on 26 August from 3pm until 7pm. Visitors can expect to find a wealth of family friendly activities, an array of local food vendors and participating businesses along Chichester's high street. You can find out more at: www.chichester.gov.uk/latestnews. Midhurst Town Council are also holding a summer street party on 28 August between 11am and 3pm.
Best wishes
Cllr Eileen Lintill
Leader of Chichester District Council
Town and Parish News
20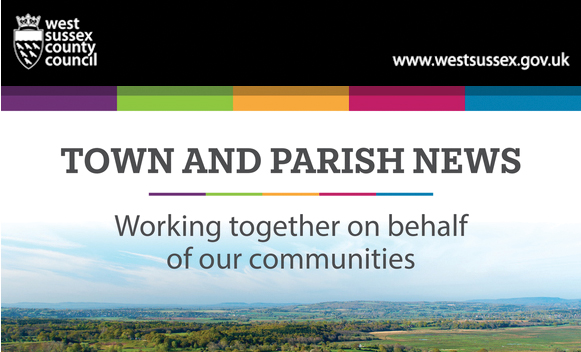 Issue 31 | July 2021

---

Welcome to your latest Town and Parish Council eNewsletter.

We have taken on board some of the suggestions and comments on content and structure you made in the survey we carried out earlier this year.

We will be adding more in the coming months.

Please let us know what you think, and any other suggestions you have by emailing townandparishcouncilnews@westsussex.gov.uk

---

Covid-19 and vaccinations update

You should have received a special edition of this eNewsletter last Thursday (15 July) detailing the latest on the vaccination roll-out in West Sussex to pass on to your residents.

We want to thank you and your communities once again for doing what you can to keep safe and protect others.

As the number of positive Covid-19 cases continues to rise across West Sussex it remains important that we all continue to follow the Government guidance and help prevent the spread of the virus.

For more information about the Sussex vaccination programme visit the Sussex Health and Care Partnership website.

Please share the link above with residents in your community.

Today (19 July) marks the move to step 4 of the government's roadmap. For the very latest information on case numbers and the impact on our services please visit our website - link below.

---

Volunteers wanted - and available

Call for school governors

We need more people who would like to be involved with and support their local school community by becoming governors.

Governors are volunteers who support a school to be the best it can be. They champion all aspects of education, supporting the school to be inclusive of all, especially disadvantaged children and those with additional needs. Positions are available across the county.

Click here for more information about becoming a school governor and please share this link with your residents.

Basic digital help - reminder for your residents

We have a team of Library Digital Volunteers who can offer free remote support for basic digital enquiries such as using email, transferring photos and files between devices and staying safe online.

If you know residents who would benefit from this support, encourage them to click here to find more information and contact details.

To find out more about volunteering in West Sussex, click below.

---

Safe against scams

Join us to find out about useful information and resources to help keep your residents and yourself safe from scams.

More than ever before, we have been relying on technology to enable us to work, learn and connect with each other.

Inevitably, criminals have exploited and used our increased digital lives to their advantage. The pandemic has seen a rise in scams including: telephone, courier and romance fraud which have all become an increased concern in West Sussex. Not only is there the financial impact on victims but the emotional impact can be even more significant.

To help raise awareness of these different types of scams, how to spot them, and what to do if you become a victim, the West Sussex Community Safety & Wellbeing Team alongside Trading Standards are running free monthly scams awareness webinars for you to attend.

Tuesday 27 July 2021: 10.00 – 11:30am - book here.

Tuesday 27 July 2021: 18.00: – 19:30pm - book here.

---

Help with planning issues

If residents need advice and the all-important 'who does what?' on planning issues in West Sussex then please encourage them to take a look at the link below.

Responsibility for planning is split between the county council, the district and borough councils, and the South Downs National Park Authority.

Information on our planning webpages include help with neighbourhood planning, Tree Preservation Orders, as well as how to request an Historic Environment Record and details about Conservation Areas and how to apply for planning permission within them.

---

About the county council

You wanted to know where you can find information about the structure of the county council, committee meetings, who the Cabinet members are, and how to find contact details for county councillors.

You'll find all this on the link below.

---

Help us to shape the future of transport in West Sussex

Now is the time for you and your residents to have your say on the future shape of transport in West Sussex.

The West Sussex Transport Plan (WSTP) is being reviewed to set out the county council's approach to managing and investing in the transport network from 2022 to 2036.

We are hosting two webinars to introduce the Draft Plan and officers will be available to respond to questions. These will be on 22 July, 10am to 11.30am, and on 8 September, 2pm to 3.30pm, via Microsoft Teams. If you would like to attend one of these webinars, please email ltp@westsussex.gov.uk.

Anyone without internet access, or wanting more information about the consultation, can phone 01243 642105, leaving their name, telephone number/email address and interest (for example, whether they are a resident, business owner, transport operator and so on) or email ltp@westsussex.gov.uk.

The consultation runs until Friday 08 October 2021. Take part here.

Other live consultations to highlight

Here are some of the other consultations we are currently carrying out. Please take part yourself and publicise widely in your community. Click on the 'Find Out More' button below to see all live consultations.

---

Committee to review next steps in Early Help service redesign

Changes to the Early Help redesign proposals will be taken to the county council's scrutiny committee meeting tomorrow (20 July).

1,948 people (including 301 children and young people) responded to the 10-week public consultation which ran from 8 March to 17 May 2021 and included five online consultation events.

A number of changes are being put forward as part of the proposal. A summary of these changes are:

To increase the number of retained centres from 11 to 12.
To increase the 'find it out' offer to young people allowing for daily appointments at a location to suit the young person.
To continue to offer some specific group work when there is an identified need.
To raise awareness of the support and services available at our Children and Family Centres.

The scrutiny committee will review the updated proposals proposals and will make recommendations to help Cabinet Members in making their decision. Next Tuesday (27 July) Cabinet Members will meet to vote on whether to approve the Early Help service offer. If this is agreed, we anticipate that staff consultation on the proposals will begin in September with the new model being implemented in December 2021.

Full papers can be viewed here

Your community can view the meeting online via the live webcast.

---

Solar together

Spread the word that a county council-supported scheme to help residents install high quality solar panels and battery systems will re-open in the autumn.

Through Solar Together Sussex, residents can get a high quality system installed to generate and store clean electricity and reduce their carbon emissions.

The scheme is run by Sussex councils in partnership with iChoosr, who use a 'group buying' approach to ensure that prices are competitive and systems are fitted by reputable, accredited installers. The previous Solar Together Sussex scheme, which opened in autumn 2020, is on course to install more than 500 solar PV systems by the end of this summer.

Summertime staycations

The schools break up this week, and many of us will be staying close to home this summer, so encourage your residents to explore other parts of wonderful West Sussex.

Our Experience West Sussex website is full to bursting with inspiring ideas of things to do, places to visit, walks, cycle trails, eateries and watersports.

---

Keeping in touch

Please share the information in this eNewsletter widely within your communities.

For daily updates, residents can follow us on social media @WSCCNews and @WestSussexCC.

We are also now on Nextdoor, the app designed with communities in mind. Your residents can follow the link and join the conversation.

Thank you for your support. Keep safe.

---

Is this the right e-newsletter for you?

This eNewsletter is for Town and Parish councillors and clerks in West Sussex. If you are a resident, we recommend you sign up for our Residents' eNewsletter, which has information targeted to you. Sign up for our eNewsletters here.
°C

%
mph
FRI
° °
SAT
° °
SUN
° °
MON
° °
TUE
° °