All about the amazing parish council home page
OgImage:
Singleton Parish Council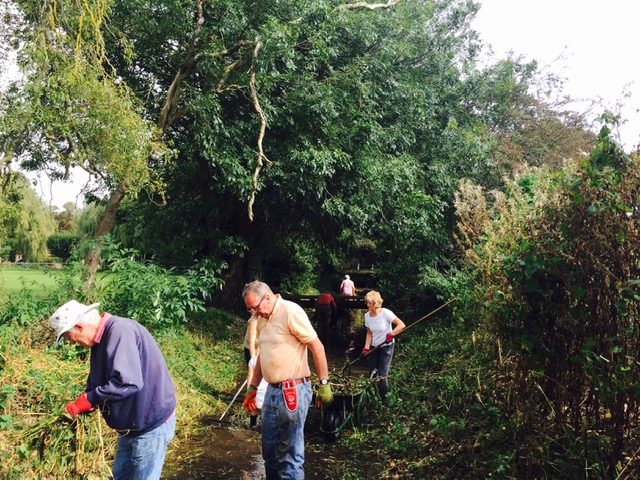 ( Volunteers Clearing the River Lavant )
This website provides information about the activities of the Parish Council in the villages of Singleton and Charlton - pretty villages situated in the Lavant Valley, a few miles north of Chichester in West Sussex.
All of our councillors are volunteers and are committed to representing their community. They:
give views, on behalf of the community, on planning applications and other proposals that affect the parish
undertake projects and schemes that benefit local residents
work in partnership with other bodies to achieve benefits for the parish
alert relevant authorities to problems that arise or work that needs to be undertaken
help the other tiers of local government keep in touch with their local communities
We want to work closely with our community and encourage residents to get in touch with us and attend meetings. Please get in touch and join our mailing list, mailchimp
Request a link to join the Virtual Meeting - singletonparishcouncil1@gmail.com
Wednesday 7:00 pm
View Details
How to report issues to WSCC
The WSCC Love West Sussex app can be used to report potholes, graffiti, fly tipping, damaged pavements and many more. Simply send in your report using the WSCC free mobile app, a text or picture message. Love West Sussex will deal with your report and we will send you a message when it's complete.
http://love.westsussex.gov.uk/reports/home
Latest Parish News
Chichester District Council
03

District Dispatch
We believe that everyone should have access to the safety and security that a home can provide. Housing has always been one of our top priorities and it's now more important than ever. This is why I thought it would be good to update you on the vital work we are carrying out to help people access good quality and affordable accommodation, as well as helping to reduce homelessness and rough sleeping. Some of this work has been accelerated as a result of the coronavirus pandemic in order to ensure that the most vulnerable people in our communities receive the help that they need as quickly as possible.
We have committed to supporting the development of 1,000 affordable homes for local people by 2025 in our Housing Strategy. I'm pleased to say that this year, working with local housing associations and developers, almost 200 affordable homes will be built across the district and let to households on the council's housing register. There is no doubt that this will make a huge difference to the quality of their lives.
Over the next few weeks, 17 families will be moving into some of the new affordable homes we are helping to provide on the Graylingwell development. In total, there will be 30 affordable homes provided on the site this year. Another 15 households have also recently moved into another significant scheme, now known as Brewery Close, which is at Southbourne. Like Graylingwell, this site is providing a mix of new homes for families and single people, both for sale and affordable rent. As well as providing security, affordable homes enable people to stay in their local area, which also strengthens our economy; helps our key workers; and gives children better life opportunities.
We also provided £200,000 to the Greyfriars Housing Association in Chichester towards an affordable housing development for people of retirement age. These homes will be provided at social rents to people aged over 60, who are on low incomes and who have a connection to Chichester. It is hoped that the flats will be completed and ready to move into this summer, while a second phase is also being planned, which will provide a further five homes on the site. We have also been working with the association to help house older people who have lost their privately rented homes as a result of the pandemic.
One of our priorities is to increase the amount of private accommodation available in our district to those who need it. As part of our response to the pandemic, we have agreed to temporarily suspend fees for private landlords who joined our property management scheme, Homefinder. The service can help provide a guaranteed monthly income to landlords, while helping people in need of homes to access quality housing. It offers a complete lettings service for private landlords, from helping to find a tenant, to dealing with all of the paperwork and day to day running of the property.
We are also committed to providing more short stay homeless accommodation. In January, we started to redevelop our existing temporary accommodation so that we can provide an additional 17 flats for people in our district who are homeless. This is part of a wider project to increase the amount of much-needed short stay accommodation for people facing homelessness in the district. Sadly, we've seen an increase in the number of housing related enquiries; our existing emergency accommodation is operating at full capacity; and, we are expecting to see an increase in homelessness once the eviction ban is lifted. As a result of the pandemic, the demand for temporary accommodation is expected to increase, making this project even more important.
Helping rough sleepers is also a top priority. Our Rough Sleeper Outreach Team continues to work with rough sleepers in the district to offer them accommodation and encourage them to seek further support from our local partners. Last winter, we secured a £60,000 Government grant towards supporting rough sleepers in our district during the continuing pandemic. Of this funding, £32,000 will be used towards meeting the ongoing costs of providing temporary homes to keep rough sleepers in accommodation. The remaining £28,000 will go to local homeless charity, Stonepillow, to extend their Housing First team. This is a project that provides support to the most vulnerable rough sleepers, by enabling them to set up a new home for life and access the wider services that they need.
I'm pleased to say that the number of rough sleepers in our district is now lower than it has been for many years. A number of those who we have accommodated have been doing really well and are being supported to maintain their accommodation. We continue to do all we can for rough sleepers and working with other local agencies and partners to ensure than no one has to sleep rough in our district.
If you or someone you know needs help at this time or you want to find out more, please visit:www.chichester.gov.uk/housing
Best Wishes
Cllr Eileen Lintill
Leader of Chichester District Council
Covid-19 Vaccination Programme - West Sussex Daily Update
03

Covid-19 vaccination programme
West Sussex update
2 March 2021
| | |
| --- | --- |
| | People aged 60 and over are now eligible for their COVID vaccination |
This week people aged 60 to 64 will be starting to receive their invitations to book their COVID jab.

Letters will be arriving from the national booking service inviting them to visit www.nhs.uk/covid-vaccination or call 119 free of charge to arrange their appointment. By following these steps, anyone in this group will be able to book an appointment at the larger vaccination centres or pharmacy led services.

Extending the programme to those aged 60 and over means that everyone in the first seven priority groups are now eligible for their vaccination, with people aged between 50 and 60 set to be invited shortly.

The NHS is encouraging everyone who has been invited to take up the offer. It doesn't matter when you were invited, you can still come forward and protect yourself.
| | |
| --- | --- |
| | Easy guide to the current eligible groups |
| | |
| --- | --- |
| | Starting to prepare for second doses |
Across our local area, vaccination services are preparing to offer second doses.

While the first dose of the COVID-19 vaccine gives a good immunity to the virus, two doses are needed to have the best chance of full protection. Second doses are being scheduled up to twelve weeks after the first.

It is really important that people get both doses to get the greatest benefit from the vaccine.

If you don't already have your date for your second dose, please be patient. Unless you have already booked both doses through the national booking service, you must have your second dose at the same place that you received your first.

They will contact you to arrange your appointment, but this may not happen until around ten to eleven weeks after your first appointment.
| | |
| --- | --- |
| | Your vaccination stories: Tony from East Grinstead Lions |
Volunteers are working incredibly hard in vaccination services across our local area to support those attending for their appointments.

They are playing an integral role supporting people, keeping people safe, and helping to make sure the vaccinations can all happen smoothly.

One example is Tony from East Grinstead Lions who is a key part of the team in the Meridian Hall.

Watch his video and read his day in the life.
| | |
| --- | --- |
| | Fact checker: Why are some people vaccinated before others who seem more eligible? |
The NHS in Sussex is working hard to get the vaccine to everyone who is eligible as quickly as possible.

The order in which people are offered the vaccine is based on advice from the Joint Committee on Vaccination and Immunisation (JCVI).

The NHS is prioritising vaccinations for those people who experts have agreed will benefit from it the most.

For most people, their prioritisation is based on their age, but there are many other reasons why someone will be prioritised for the vaccine. These include being a frontline health or care worker, having an underlying health condition, or being a carer for a vulnerable person.

Some people may have been prioritised because they cared for someone in the past and have not updated their GP about a change in circumstances, or because of a previous health condition which is still in their notes. Some may be prioritised for a reason that they wish to remain confidential.

The Sussex COVID-19 vaccination programme has already offered the vaccine to all those in the first four eligible groups and is on track to have offered it to everyone in the first nine groups by mid-April, in line with the national target.
°C

%
mph
FRI
° °
SAT
° °
SUN
° °
MON
° °
TUE
° °